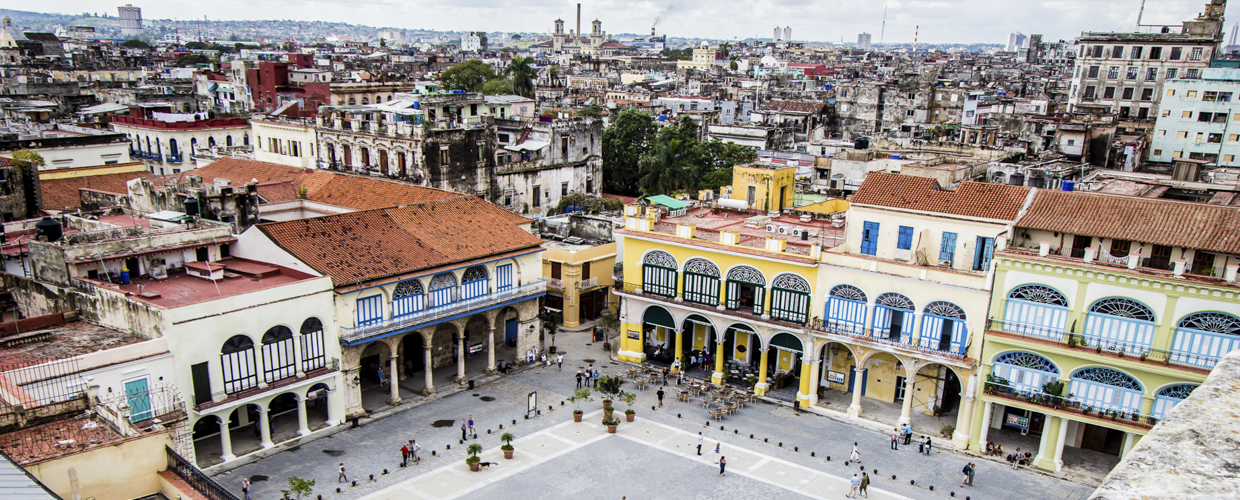 Why is this group legal?
Go to the legal travel section and it is explained.  If you want to contact the treasury, call 202-622-2000 or look at their website for the guidelines in which this license was issued.
Where do we fly from?
We fly directly from Tampa, Miami or Fort Lauderdale, Florida.  It is about a one hour flight. You can fly from any of these cities.
Any restrictions on cameras?
There aren't any restrictions we're aware of. Many of our travelers have brought very expensive and complex gear and they had no problems.
What should I wear?
Cuban summers are hot and humid, with afternoon rainstorms frequent. Light clothing is a must, as well as a hat. Spring and fall have beautifully mild days in the 70s-80s and cool nights in the 60s. Winter days are usually in the 70s but at night it will cool to the fifties. This may not seem bad, but Havana winters produce strong northerly prevailing winds that whip through the old city like wind tunnels. It will seem a lot colder if you are exposed to the wind. A light jacket or sweater should get you through.
What is the voltage?
It's the same as ours. Your electrical items will work without any problems.
What currency do we use?
You must trade your dollars (or euros, pounds, etc) for Cuban units of currency (CUC). You can exchange them at the airport or many banks and tourist hotels. It is the only currency Cubans are supposed to take. There is another Cuban currency called pesos, but they are for local Cubans and can't be used for most worthwhile purchases.
How is the water?
By Latin American standards, the water is fairly safe. But to be on the safe side, drink bottled water. It is available everywhere.
What necessities should I bring?
Sadly, most medical goods you take for granted are largely unavailable. Even simple items you get at a pharmacy may be hard to find. Bring any prescription medicine, first aid items, contact lens solutions or about anything you cant live without. Also, make a copy of your passport picture page and visa and hide it in your bag. If you lose these things (god forbid) it makes it infinitely easier to replace.
Will my cellphone and credit cards work?
Due to recent changes, Master Card will now work. But don't expect to use them much. Most places in Havana will not accept any credit cards and most that do charge a 3% surcharge. The Cuban cellphone system is different from ours and not interchangeable. It is now possible to use your AT&T, Sprint or Verizon cell service in Cuba but roaming charges are high. However, texting is cheap a good way to stay in contact. Check with your cell carrier to find what the call rates are. You can call America from tourist hotels but that is over $2 a minute.
Can I get on the internet?
Wi-fi service is available in certain tourist hotels and parks and it is spreading but by no means as common as here. If you have no laptop or cellphone, internet service is available from tourist hotels and certain internet cafes but it can take a while to load a page. Personal internet use is very restrictive—fewer than 1% of the population have internet access. You can purchase cards that allow you on Cuba's wifi system and they cost $2-4 an hour.
What come I bring home with me?
You bring back 4 boxes of cigars and 1 liter of rum duty free. You may bring back more than that but may be asked to pay a 4% duty. There is no limit to publications (books and magazines), artwork (including CDs and DVDs) and informational materials. There Is an $800 limit on total goods.
Is Cuba safe?
It's amazing how often we hear this question. It's probable that compared to all American cities of equal size (or even half the size), Havana would have the lowest crime rate. Robberies and muggings are virtually unheard of. That being said, don't make your money easy for pickpockets—a passport pouch should do the trick. Also, many Cubans have relatives in the U.S. They are fascinated with Americans and love our culture, such as baseball, Chevys and movies. For any of you that have traveled to other countries, you will find this pleasantly surprising.